Services
Hello and welcome! I'm glad you're here, because that must mean you're ready to learn more about Pelvic Health Physical Therapy and how it can help you improve or reclaim your quality of life. Life is too short, and you are too amazing, to settle for the same old answers like "Well, that's just how it is" or "Why don't you just have a glass of wine and relax?" or anything else that dismisses the real and valid frustrations you have if you're leaking urine, having pain with sex, or struggling in ANY WAY to exercise or live a great life after pelvic injury. Nobody has to just "live with it."
Bladder dysfunction

Urinary leakage, bladder pain, urinary retention, interstitial cystitis, post-prostatectomy incontinence, bed-wetting, and other bladder conditions not listed (just ask!)

Bowel dysfunction

Bowel leakage, constipation, IBS, pain with voiding

Pelvic pain

This can be anything from SI joint, hip and/or back pain to pain with intercourse. Endometriosis and Pelvic organ prolapse are common cause of pelvic pain.

Doula Services

Megan is the only "Physiodoula" in Kitsap and welcomes your inquiries about continuous labor support.
Rates
Chrysalis Physical Therapy is an in-network provider with: Regence, Medicare, First Choice Health, HealthNet Federal Services (TRICARE Select), Cigna, Molina, and Kaiser Access PPO plans. Clients with these insurance providers will follow typical medical billing procedures. Your rates will vary based on your plan. For clients with any other insurance provider, a fee-for-service model is used. The client pays an up-front flat rate and receives all necessary receipts to submit for reimbursement through their benefits provider. For your convenience in navigating this process, a worksheet will be provided that will guide your conversation with your insurance company prior to scheduling your first visit.
For Doula clients, the on-call labor support services are not eligible for insurance reimbursement. However, prenatal and postpartum sessions that fit the definitions and requirements of Physical Therapy intervention are eligible for insurance reimbursement, which can significantly lower the total cost of Doula services. This would be discussed individually in more detail given each client's specific physical needs during pregnancy and postpartum.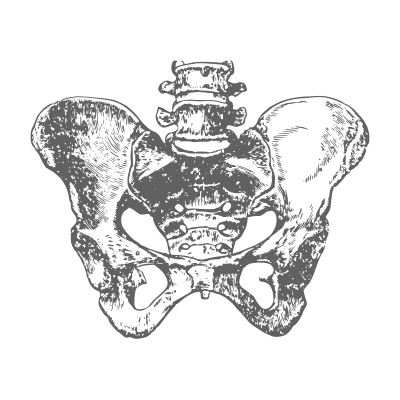 About Pelvic Health
What to expect: for your first session, we'll start just by talking. Hearing your story is the first and most important part of getting a plan together. Based on this information and other aspects of your medical history, the evaluation will continue with a holistic, total-body orthopedic evaluation for strength, flexibility and balance. If your condition warrants an internal vaginal or rectal pelvic floor muscle examination, we will discuss this further and proceed only if you agree that it is important.
The plan of care and treatment at follow-up sessions is dictated by what we discover and what your goals are. I use an eclectic approach to try and best fit the values and needs of each client, and will probably be some combination of myofascial release, trigger point release, exercises geared toward retraining the muscles who need the help, and the most current, relevant patient education I can find for you. My goal with every client is to work myself out of a job by providing you with the information and tools to help resolve your symptoms — and stay that way on your own.
About Megan
Megan Kranenburg holds a Bachelor's of Science in Civil Engineering from The University of Portland and a Doctorate of Physical Therapy from Eastern Washington University. Learn more.